Aim to become Best Photography service provider in India
Akshit Photography has been delivering commendable results since it's launch in 2015 in Indore, Madhya Pradesh. Our sole goal is to provide the greatest of experience and value to our clients. We believe we provide the best services of photography in Indore as well as across India. We specialise in wedding, architectural, product, portrait, fashion, macro, and other commercial photography, though wedding and pre-wedding photography is our forte. Other than commercial photography, we have a great hand on nature and abstract art photography. Our founder, Akshit Garg has over 7 years of experience with Akshit Photography and organised a few art galleries of his own. He is a passionate photographer and entrepreneur, with the will to exceed client expectations. We believe in teamwork, and work hard to serve our best operations. We love our clients and improve ourselves each day to grow with them. From being the best photographer in Indore to being the photographer in India, we have come a long way.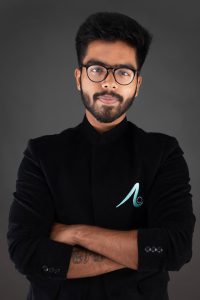 There is a story to be told in every frame, a lesson Akshit learned very early in his life. Though it started as a hobby, photography eventually became his passion. With his first equipment- Sony HX100V, he started shooting photographs on-the-go during his trips to some alluring spots of attraction in India with his parents; both avid travellers. They soon discovered that he had an eye for photography, and bought him a Nikon D40. He started shooting beautiful landscapes and capturing the beauty of nature in both the long and macro shots. By the time he was 15, he was all ready to step into the world of commercial photography. He soon started training with Mr Hemshankar Pathak, picked his concepts fast, and was ready to go professional. Akshit took his baby steps into commercial photography shooting portraits and fashion photographs for family and friends. By the time he turned 19, he had already conducted 2 solo photography exhibitions in Indore, displaying his contribution towards the art that he so passionately follows.
Over the last three years, he has grown professionally exploring various streams of photography like Product Photography, Architectural Photography, and Fashion Photography in which he has excelled. He has been working on his skills from an early age and continuously growing through every new project he has completed and supervised. For Akshit, photography is a way of expression, a prayer that brings him peace, and an art-form that soothes his soul. He wants to capture everything that exists in this world. He wants to freeze the live moments from people's lives forever and to give life to objects, each of which he believes, has a story to tell. He says, "I want to give a new perspective to things, every time I hold the camera." For him, it has been a great journey, frame by frame, and pixel by pixel and it will remain so.
What are Akshit Garg's skills?
Akshit Garg is an entrepreneur and a skilled photographer in various niche including architectural, interior, pre-weddings, weddings, products and a lot more…
What services we provide?
Akshit Garg's Photography Company specializes in Product photography, Aerial Photography, Interior Architectural Photography, Pre Weddings, Weddings and many more…
Why Akshit Garg is best digital photographer in Indore, India?
Akshit started photography at a very young age and his passion turned to his profession when he was just 14 years old since then he is brushing up his skills, experimenting & working on becoming the best. Along with the dedication to become the best, he also owns amazing camera equipment like tilt-shift lenses, 3 axis motion controller, drones, 360 degree camera etc. to help him master his skills.
What makes Akshit Garg different from other photographers?
Akshit had a camera in his hand when the boys his age played with remote control toys. He started capturing family trips at a very young age. Now, has around 7 years of experience in professional photography and he strongly believes in client satisfaction.
He feels photography is constantly evolving and loves to keep up with technological changes that come in the photography world. Experimentation and improvisation is his secret to a good photograph.
What is Keywits Creative Technologies & what are their services?
Where is Akshit Garg from?
When is Akshit's Birthday?
Akshit's social media Handles?
What are Akshit Garg's hobbies?
Akshit Garg likes to travel in his free time & is very active when it comes to fitness.
Who are Akshit Garg's Parents?
Akshit's parents are Mr. & Mrs. Garg. Just Kidding. They are Mr. Ajay Garg & Mrs. Reena Garg.