PRE-WEDDING PHOTOSHOOT TIPS FOR COUPLES
Pre-wedding shoots are currently a rage among couples, in today's times a pre-wedding shoot has become as important as any wedding function, it's a great way to show your love and your bond with your other half on social media, for memories and to cherish forever. Now couples, are eager to go with well-designed photoshoot ideas, before coming for the shoot. You'd see a whole lot of mood boards, creative ideas, and whatnot from these couples who just want a set of fantastic photos before tying the knot. Planning a pre-wedding shoot is not child's play it takes months and months of planning and there are several factors you need to keep in mind before setting your pre-wedding shoot, to save you from all the hassles of planning a photoshoot here we are with the ultimate guide and tips on how to plan your pre-wedding shoot.
➼ Choosing the right season
Weather plays an important role in your pre-wedding shoot, the right season will play an important role in natural lights as it is impossible to get the golden hue of the sun on gloomy days. And for the same reason, you definitely wouldn't want your pre-wedding shoot to get spoiled because of uncalled rains. 
➼Choosing the right location
The location you choose plays an important part in defining you as a couple, you should choose a location that defines you and your partner. For eg:- if you guys are adventurous then maybe you should have your photo shoot done at a game zone or any wilderness park rather than in a five-star hotel. Remember to choose a location that is under your budget. 
➼Pick your makeup artists beforehand
Makeup plays an important role in any shoot, so it's advisable that you pick your make-up artists beforehand the bookings of professional makeup artists are done 6 months beforehand, make sure to secure them in advance if possible. If you want to make sure you're happy with the MUA's work for your shoot, it's a good idea to schedule a trial run before the big day. Before your trial sessions, do some research on cosmetics and hairstyles to discuss with your MUA.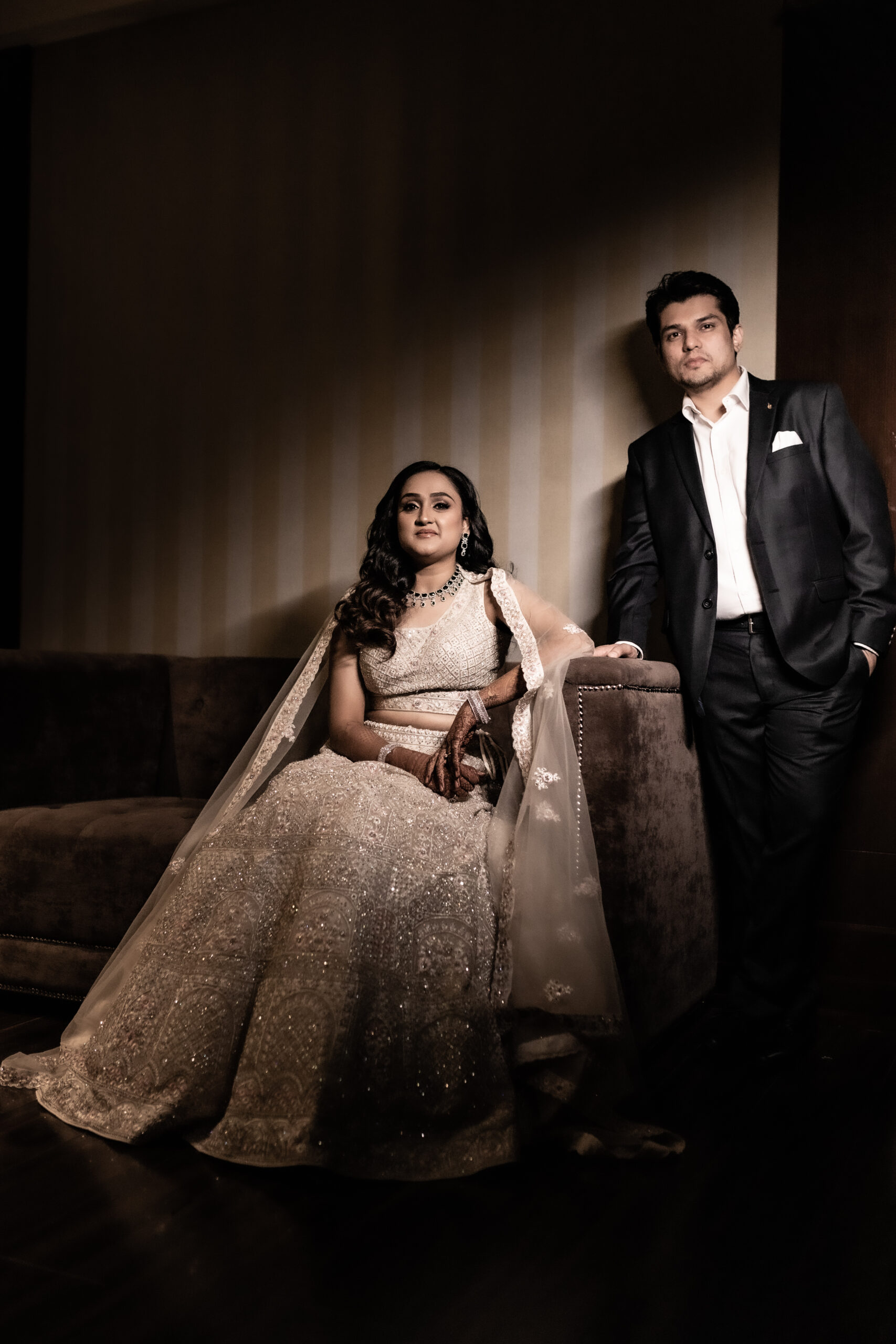 ➼NATURAL LIGHTS OR ARTIFICIAL LIGHTS
Whether you want to get your pre-wedding shoot done out in the sky with nature being the perfect backdrop, or inside with golden artificial lights that add an aesthetic appeal to your photos. The lights play an important role and when used constructively may increase the entire effect and this altogether plays an important role in the output.
➼CHOOSING THE OUTFITS OR COSTUMES
The key part of the entire planning procedure is to decide what to wear for yourself and your man, think about the backdrops you'd like to use for your photos and plan your costumes accordingly. If you want to make a statement against the backdrop, ask the photographer for recommendations on what colors to wear. Look the best with your handpicked outfits and accessories. Be ready with your outfits' at least two weeks before the day so that there are no end-time fittings. Plan your outfits in a way that you can color coordinate your attires or wear the same tees. The location that you choose will majorly give you a hint of the type of outfits required, so they must be selected in a manner that suits the entire theme.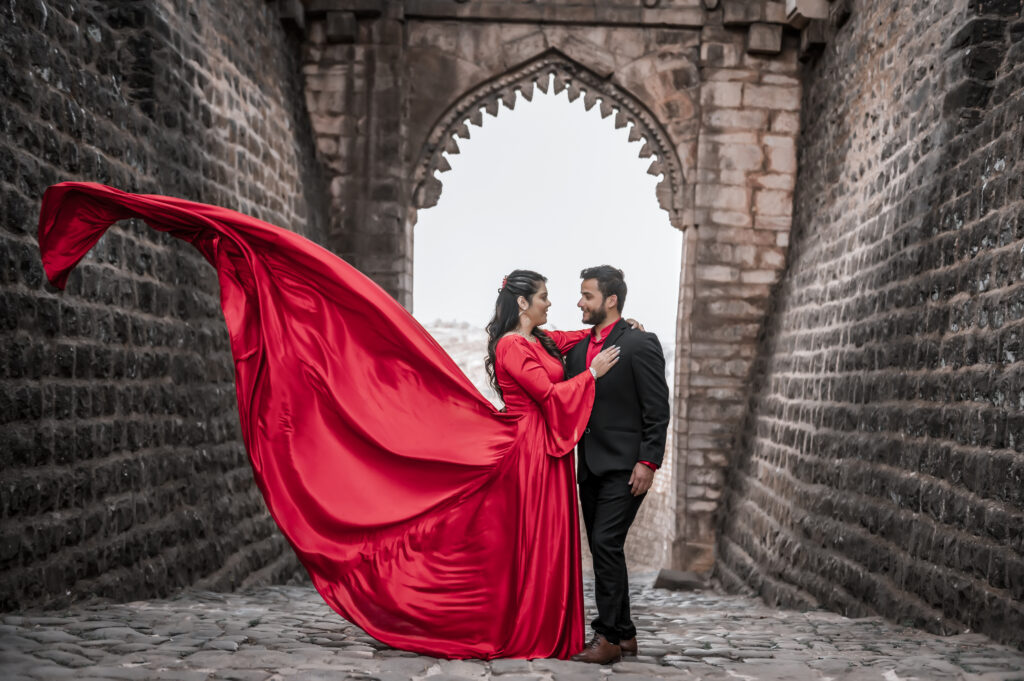 Every pre-wedding shoot is different and so is every prop you decide to use, just because a prop looked good in one of your friend's shoots doesn't mean that it will look good in your shoot. The prop must convey an unspoken message. The prop used needs to be chosen carefully and should blend with the entire theme. Once your outfits are chosen it is time to decide on what props you will be choosing for the photographs and also the video. With the background, theme, and outfits in mind, you will be able to choose your props easily. All these things do matter because the props must also coordinate with the vibe of the entire shot. Some of the ideas for the props can be balloons, color pops, or a diamond ring. A lot of options are available; you just need to find the best ones to suit your entire photo shoot and video shoot.
The theme of your pre-wedding shoot revolves around your location and outfits, you can have a vintage and heritage shoot or a casual and fun shoot. Remember a photo is a mixture of all these elements combined.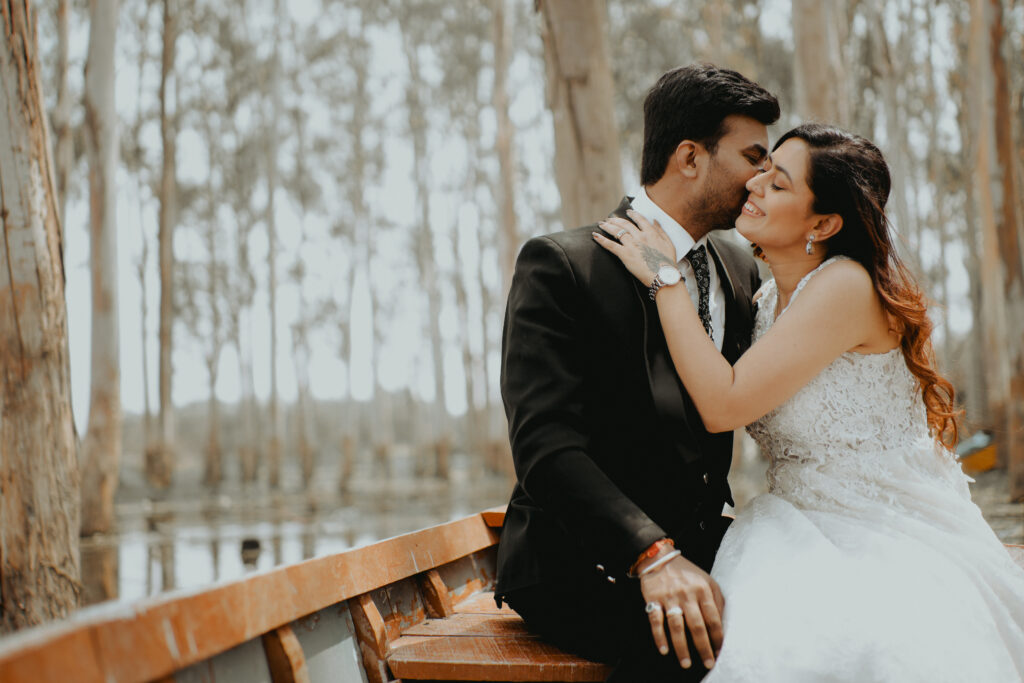 ➼HIRING A PROFESSIONAL PHOTOGRAPHER
A photographer is one of the prominent parts of a successful photo shoot remember to choose your photographer wisely as he will make or break the pre-wedding shoot.  Book the photographer in advance and discuss your expectations with him. Carefully choose a photographer after keenly observing several portfolios. Look for an experienced photographer who can present the true blend of creativity and perfection in the pre-wedding shoot. It's recommended that you should narrow your search for a pre-wedding photographer based on their experience. An experienced photographer knows how to make the couple comfortable even in an alien setting. 
Don't think that you will get the ideas of poses there and then. Check sites like Pinterest to shortlist the best couple poses and create a mood board. Save these poses on your phone and practice them before the day of the shoot if you can. Trust your photographer when he is telling you the poses as he knows what is best for you and what poses are the trendiest, it is okay to get awkward in front of a camera but try to remember your first date or cute moments with your partner so that the emotions can easily pass through and can be easily seen in your photographs. 
To nail their pre-wedding shoot it's very important for couples to know their photographer, and to let him know your story so that he can perfectly shoot your shots by keeping your chemistry in mind. A pre-wedding shoot is also a great opportunity for couples to get comfortable in front of a camera before their big day. 
QUES. SHOULD WE HIRE A PROFESSIONAL MAKEUP ARTIST FOR OUR PRE-WEDDING SHOOT?
The pictures that you click for your pre-wedding photoshoot are meant to be treasured for a lifetime and you want to look the best. To look like a diva, you need to make sure that you have your pre-wedding photoshoot makeup on point, the one that brings out the great photographic results you are aiming for. 
Normally, the brides do their pre-wedding shoot makeup by themselves as it doesn't require much attention unless you are having your pre-wedding shoot done on a heritage location then the makeup will require perfection, and to achieve that you definitely need a makeup artist, try to book your makeup artist in advance 1-2 months before your shoot, and try to carry your emergency makeup kit which will have all your minis, thus easier for you to handle. 
PRE-WEDDING SHOOT CHECKLIST:-
Here's your ultimate pre-wedding photoshoot checklist:-
o Select a location, keeping the season in mind
o Pick a date
o Hire a professional photographer
o Bring the right shoes
o Hire a makeup artist (discuss your hair and make-up beforehand)
o Select the poses beforehand
o Get ready with props
o Choose your outfits
o Set of extra outfits
o Pack extra comfortable footwear
o Mini makeup kit for touchups
o Matching jewelry and accessories
o First-aid kit
o Carry some food items
o Umbrella (because you never know when the weather changes)
o Safety pins
o Make-up remover
o Laugh and have fun
o Get the emotions flowing