A GLAM PRE-WEDDING SHOOT IN INDORE
"You know you're in love when you can't fall asleep because reality is finally better than your dreams."
-Dr. Seuss
While every pre-wedding shoot and wedding story is beautiful and is an ideal celebration of love, there are some we honestly love talking about because some stories look better when they are written on paper and captured on screens. And such is the story of Yash and Palak.
It was love at first sight for our couple, who met through a mutual friend and have been into each other ever since. "We met through our mutual friend at a golf court and the first time I saw her playing golf, I knew she was the one," said Yash. The couple's fateful encounter happened 2 years ago. From then on, the couple went on to date for 2 years and decided to take their relationship to the next step- marriage.
Yash and Palak's pre-wedding shoot took place in 5 different locations, each location played an important part in the couple's story. Apart from the locations given below, there are several different pre-wedding shoot locations in Indore. The locations for Yash and Palak's eccentric pre-wedding shoot were:-
• The golf lounge
• Zonatello pizzeria
• Dewas windmill
• Tincha falls
• Their private farmhouse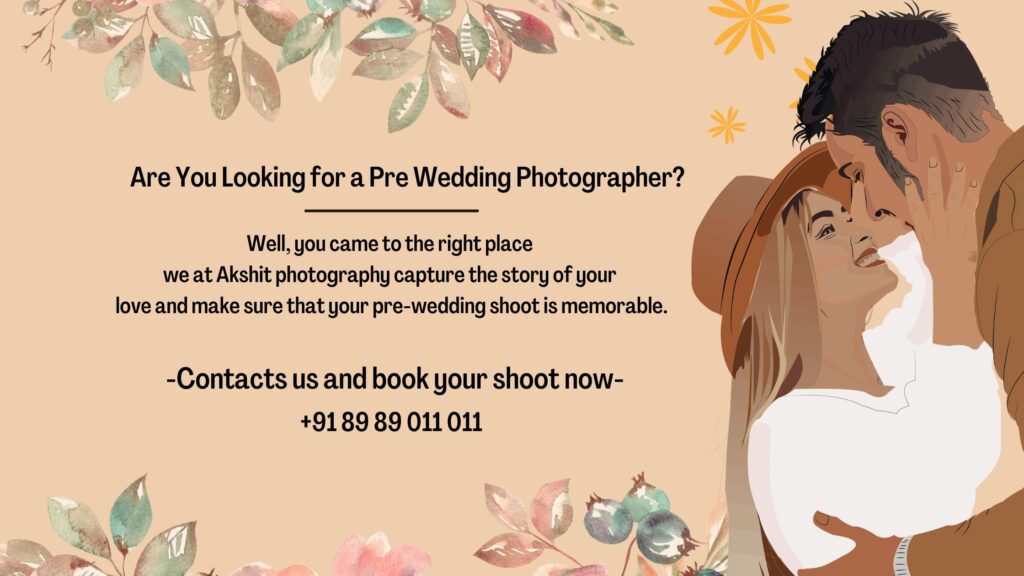 The most significant location of their pre-wedding shoot, where the couple met for the first time! For the shoot, our bride-to-be was dressed in a casual jumpsuit with horizontal stripes and our groom-to-be was dressed in a navy blue polo shirt. 
The next stop was of course Zonatello Pizzeria where the couple had their first date. For this shoot, Palak was dressed in a lilac floral-printed ruched summer dress with full sleeves while Yash wore a casual burgundy t-shirt with a grey polo jacket. 
This location was our favorite and the photo turned out to be perfect, and splendid in every sense. Palak wore a white embellished A-line dress with strappy brown sandals, while Yash wore a fitted white crew neck t-shirt paired with a white half-sleeves jacket. The photos came out to be fun and quirky leaving all of us awe-inspired. For your pre-wedding shoot, there are several poses you can try that will make you feel comfortable in front of a camera and will also portray the story of your love. 
To give their shoot an edgy feel the couple decided to have their shoot on Sinha falls and after seeing their photos we couldn't be happier with their decision. The photos turned out to be downright exemplary. The couple decided on monochrome outfits and wore the same fit, black jeans paired with a white t-shirt and a black leather jacket.
5- THEIR PRIVATE FARMHOUSE-
The couple used to hang out a lot with their friends in their private farmhouse, thus we decided to have their shoot in this location which is a major part of their story and where the couple has most of their memories. The photos turned out to be quintessential. For this location, the couple wore multiple outfits. 
➼ For these shots Palak wore a floral-print lacy tie-shoulder sundress and Yash wore a plain black t-shirt paired with a light-washed blue jean jacket and black jeans.
➼For the night-time shots Palak wore a blue sweater with high knee socks and black boots, while Yash wore a white t-shit underneath a knitted checks cardigan.
➼For these shots Yash wore a dusty peach half-sleeved shirt paired with white shorts, while Palak wore a red top with A-neckline paired with white shorts.
➼The couple decided to go classy with this next set of photos and chose the glamourous outfits. Our groom-to-be wore a black tuxedo with a black bow tie and our bride-to-be wore an embellished blue-green gown.
➼And for the last shots the couple decided to go all traditional, Palak wore an orange full-sleeved crop top which was laced with sequins, and an olive-green straight skirt with gold borders. While Yash wore a bluish-grey kurta underneath a printed Nehru jacket paired with white pajamas. 
And, with these photos there comes an end to this wonderful shoot with our stunning couple and their charismatic love story that made us go all aww and made us believe that maybe true love does exist!