Best Pre Wedding Photoshoot Poses 2022
So you have taken countless goofy selfies together, but the pre-wedding shoot is where you are sweating and getting your nerves all worked up as the pressure of posing and being silly together is too much and on top of that there is a camera right in front of your face. You're probably wondering how to nail these photoshoots without coming off as too stiff and "posey" either. To save you from the trouble of posing here we are with the trendiest pre-wedding photoshoot poses, you can do with your partner.
What is a pre-wedding photoshoot for couples?
A pre-wedding shoot is a short photo session for those couples who want good pictures of togetherness; without the hassles of the heavy wedding attires, makeup, and ornaments. Here both the partners are free to pose. It is a great way for couples to get to know their wedding photographer and become comfortable in front of the camera before their big day, also known as an engagement photoshoot. It can take place both indoors or outdoors depending on the preferences of the couple.
You don't have to worry about a camera, being in your natural element and telling the story of your love, is what matters the most in these shoots. The best couple's photos are the ones that feel natural to both of you and let your emotions shine through. To save you from all the awkwardness of posing in front of a camera, here we are with the creative pre-wedding photoshoot poses that aren't too cheesy or fake.
Twirl your bride around to capture the movement of her dress, dancing together is a great way to get rid of any awkwardness you feel in front of the camera.
2- Holding hands and Follow me to
Put your hand in mine, you know that I want to be with you" well this pose depicts exactly these emotions, the naturalness of this action takes away the "posed" quality of your photo. Try to look back at your partner when you converse too.
Being goofy together while she is blowing bubbles and you are looking at her with a soft smile on your face, sounds dreamy right? Well, the photos will be magical too. This could be a very fun outdoor pre-wedding pose.
4- Head on the shoulder, holding his arm
Rest your head on your partner's shoulder and hold his arm, try to remember your first date or your first conversation so that your emotions seep through your expression.
Don't just hug your partner, let your feelings and love shine through the photos by meaning your hug.
In this pre-wedding photoshoot poses the groom drops a kiss on the bride's forehead.
In this pose, you can enact your proposal or do an actual proposal, whatever suits best for you. This can be both outdoors or indoors shoot with mountains, lakes, or clouds being the stunning background.
8- Playing a musical instrument together
If one of you is a musician, so why not bring your instrument to your pre-wedding shoot? Leaning in your partner or hugging them while they are playing guitar or a grand piano can be a creative pre-wedding photoshoot pose to try.
9- Carrying the bride for a kiss
This outdoorsy couple pose makes for a striking shot, this can be as passionate and dramatic, or as silly and sweet as you like.
10- Sitting together and looking at the horizon
Many variations come with this pose the couple could be sitting down, or standing next to each other while the orange-reddish hue of sunset adds the perfect background.
Lean into him with his arm around your waist and rest your hand on his chest for a more intimate couple pose or with his chin tucked above your head and you both are looking into the camera could be a stunning and creative pre-wedding pose.
Holding hands is one of the most natural couple's poses you should try as your pre-wedding photoshoot pose.
With him or her hugging you from the back while both of you are facing the camera, or facing each other. An amazing couple poses for a pre-wedding shoot.
Jump up for a piggyback ride in this fun couple pose for pre-wedding that's sure to have you laughing naturally and help us to capture that beautiful smile on camera. Another goofy couple poses for your pre-wedding shoot.
The just-before-the-kiss shot has both of you leaning towards each other, with your nose touching or foreheads meeting, without actually kissing.
He places his arm across your chest and you hold his arm or hand, this pose will subtly capture your engagement ring. Another subtle yet creative pre-wedding pose.
Holding hands and taking a stroll be it in a park or crossing the road while holding hands, this surely removes any awkwardness from your photos, forget the camera and just enjoy each other's company. 
18- Snuggling while seated
Lean into each other while you're seated or lie down in his lap for a cozy couple pose that feels both natural and sweet. A fun outdoor pre-wedding pose to try.
19- Hand on cheek or back of the head
Place your hand on the back of your partner's head or hold his or her cheek, this accounts for a cozy intimate pose. Carrying the bride in your arms, while looking at the camera, or gazing at each other, will be the perfect couple pre-wedding photoshoot pose.
Pre-wedding photoshoot poses in sarees:-
Saree is India's one of the most popular and widely used traditional attire, worn by women all over the world. A saree is the symbol of a deity, and wearing it portrays augmentation and pride for any woman. A saree is the most elegant choice for a pre-wedding photoshoot. Now, we know your dilemma about how to pose in a saree for your pre-wedding photoshoot, well don't worry we got you covered here are 7 pre-wedding poses in a saree. 
For dramatic effect, we can use the loose end of your saree to flow in the air which will form beautiful shapes. Saree accounts for a great prop and be ready to flaunt your go-to poses with more elegance for a striking photograph.
An array of props could be used to create some fun photos, props like a blow-dryer or small mechanical fan which will add a fun element to your photos, and creative pre-wedding poses that go well, with your choice of outfit. This could also count as fun outdoor pre-wedding poses to try.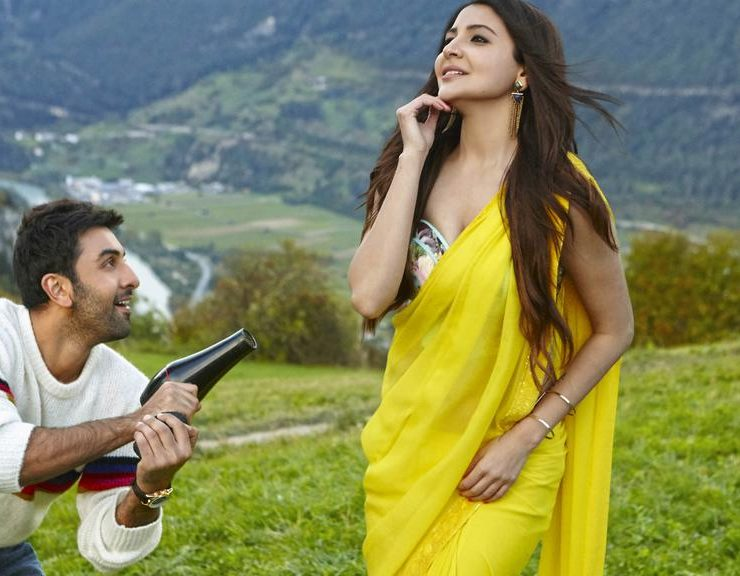 To complement the bride's attire the groom could also wear a traditional outfit, with some quirky accessories for a distinct look.
The groom is on his knees fixing the pleats of the bride's saree with precision, draping the saree requires patience and precision, and asking your partner for help is a smart pre-wedding pose in saree.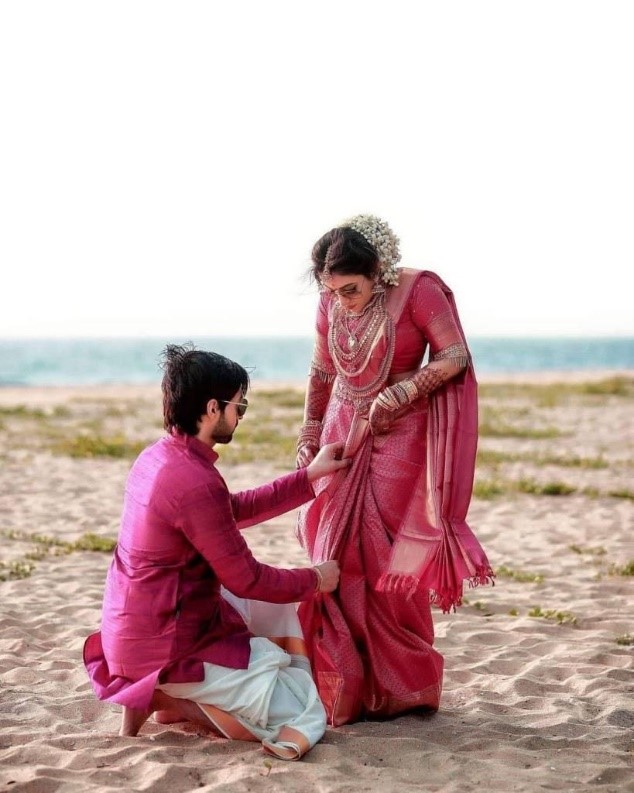 The groom carrying the bride in his arms, both of them with a content look and looking at each other with soft smiles on their face is a perfect movie-styled romantic photo that looks like something straight from the big screen.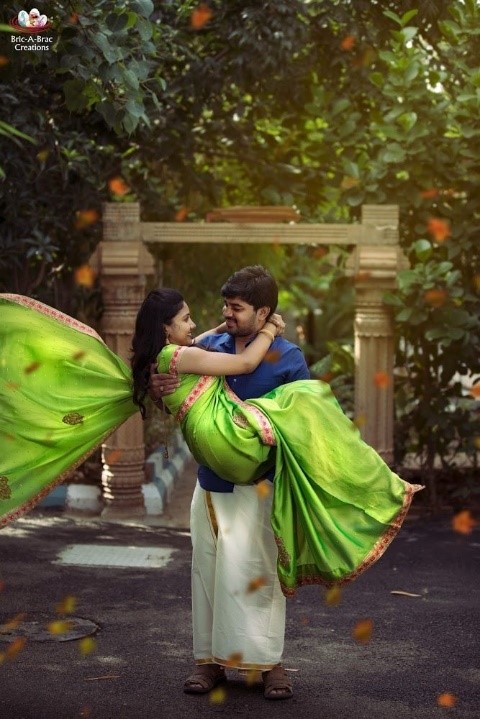 A heavily-embroidered saree, with a long loose end, contrasting with the background, while the groom kisses the hand of the bride and the bride smiles at him, is a simple yet stunning pre-wedding photoshoot pose for couples.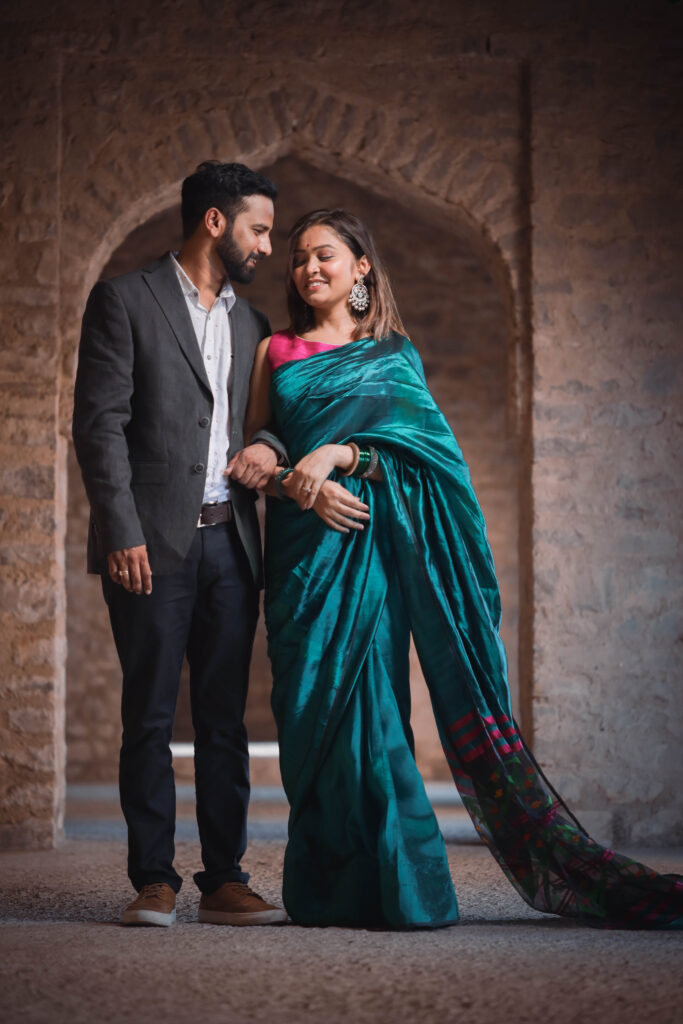 The groom lifts the bride in his arms, while she has her arms wrapped around his neck, both of them looking into each other's eyes with love, show your saree by bending your legs and the pleats will look beautiful. Another Fun and creative pre-wedding poses to try.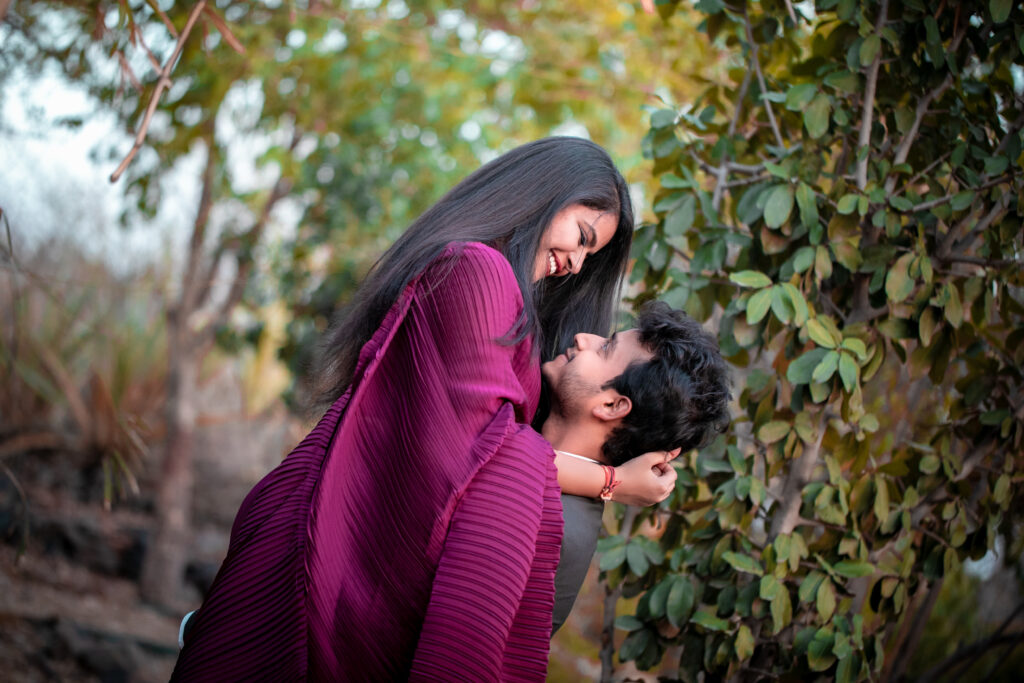 Funny poses for couples' pre-wedding shoot:-
 Instead of traditional romantic shoots, why not try something new and funny, something that will reflect your bonding and personality? We know that the traditional romantic shoots will bring out your "aww" worthy moments, but a fun shoot with both of you goofing around together that will catch your love and hilarious sides, and will make you smile even after years of your wedding sounds fun, right? So, here we are with creative couple pre-wedding photoshoot poses that you could try:-
You know what they say about opposites attract! And if you and your partner are polar opposites then we have got you covered, the groom is doing a pushup while the bride is sitting on top of him eating a burger, instead of common poses like holding hands, there are so many creative pre-wedding poses you can experiment with.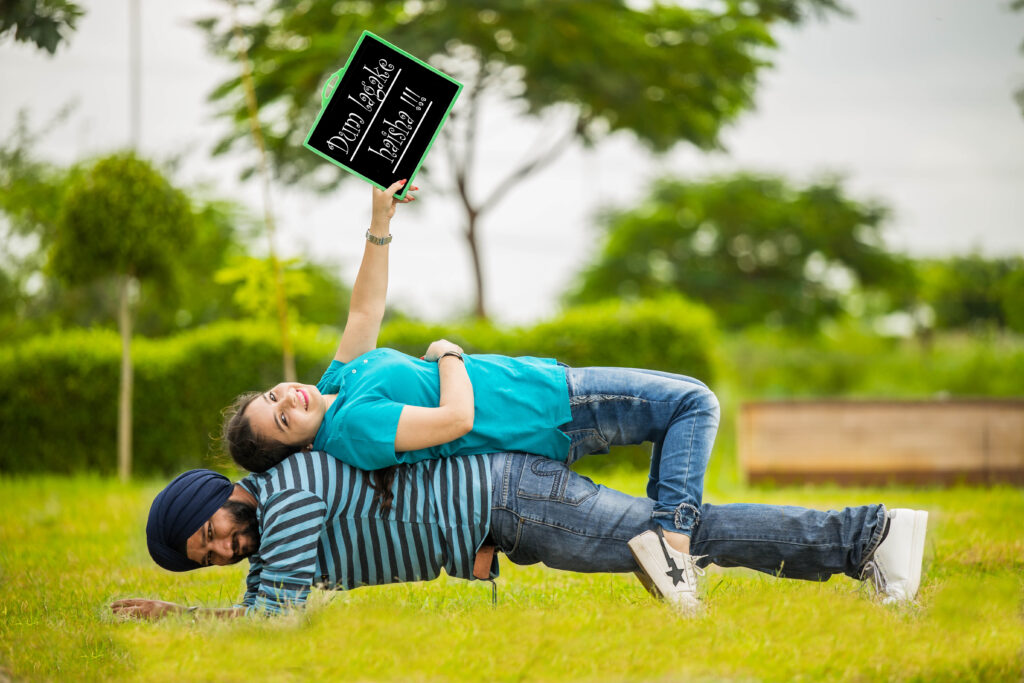 Instead of clichéd poses, express your true feelings by writing them down on placards. The groom is dragged by the bride, with a placard in his arms reading "help me", while the bride has a placard in her hands reading "save the date".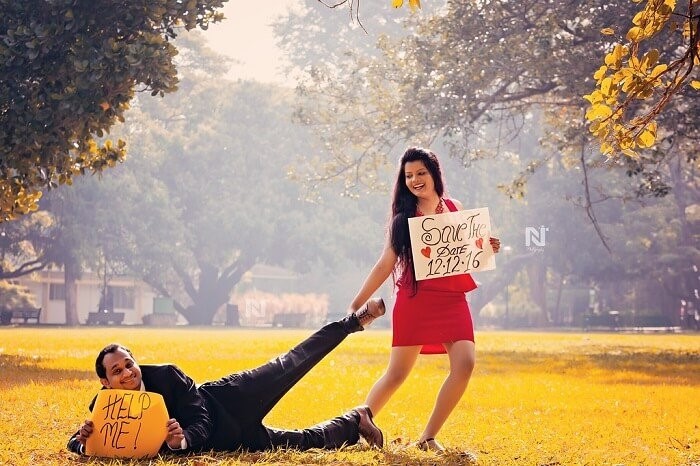 So you guys are adventurous and like to play games, where you compete with each other? If yes, then get your photos clicked together in a game zone, with you guys enjoying your favorite activity together.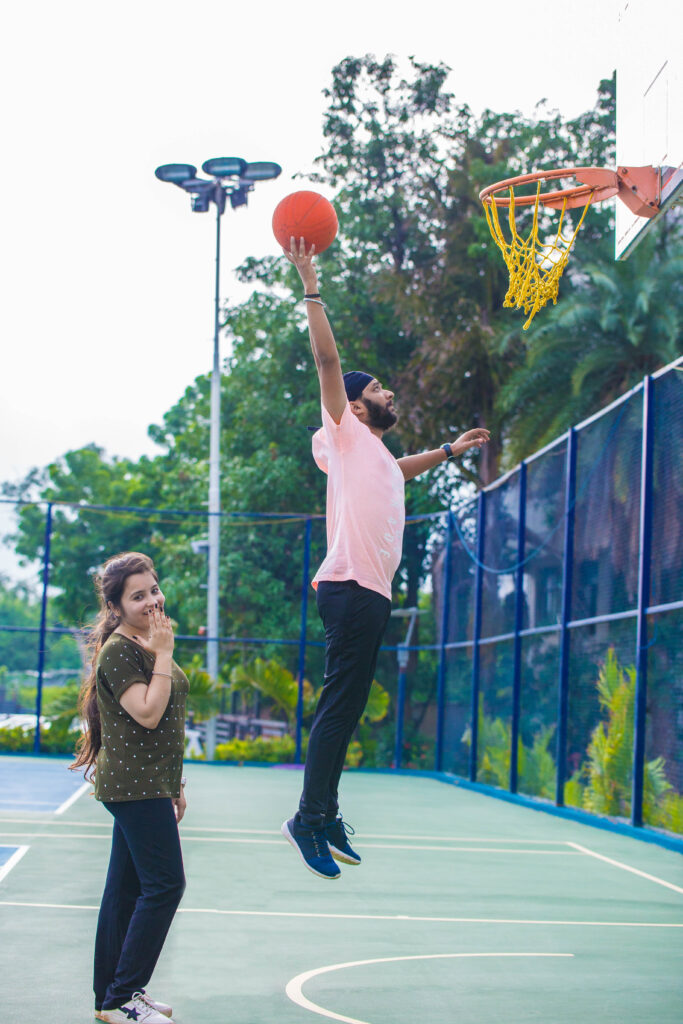 4- Let eyes do the talking
With those cartoon eyes and the right expressions, the couple looks adorable. This is one of the most simple and creative poses you ought to have in your wedding album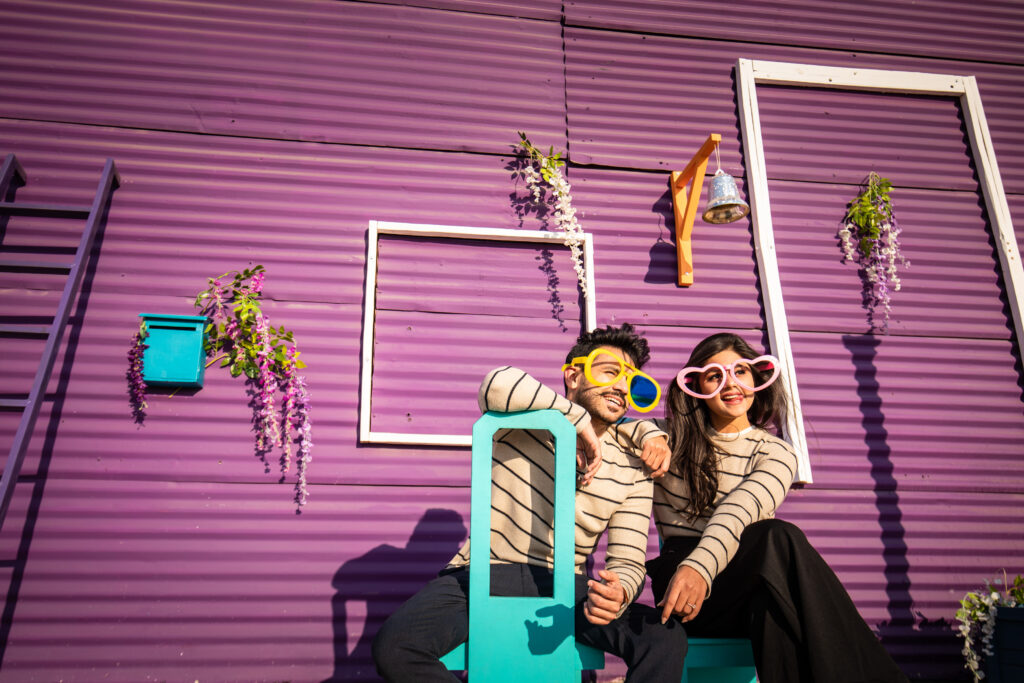 Just when your picture is getting clicked, let your partner photobomb your photo, just like this girl did, at the end, you will get a funny photo.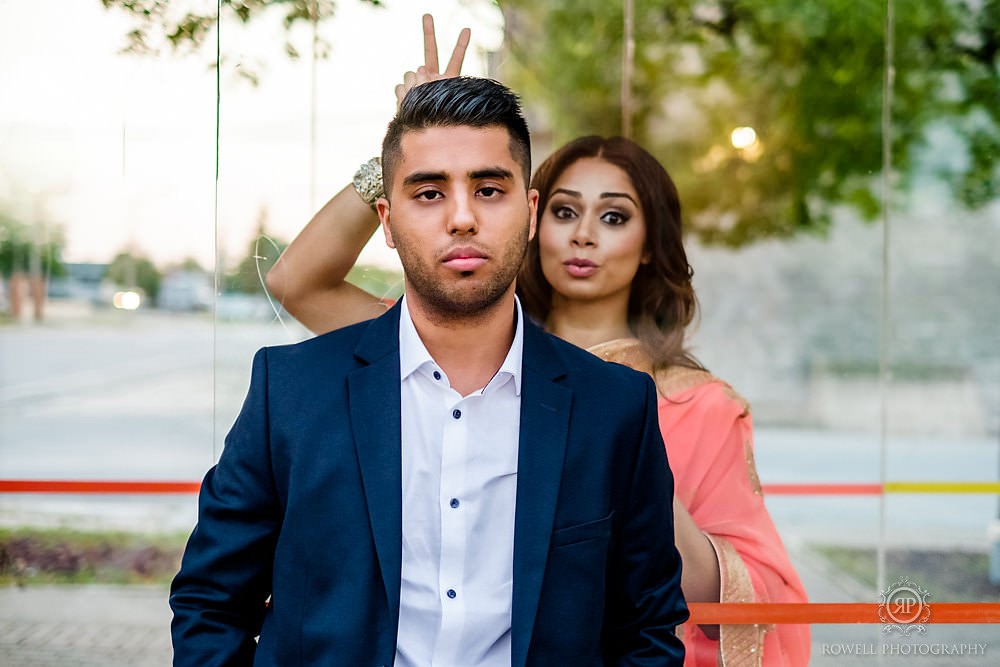 As we are coming towards the end of our blog here are some most asked FAQs.
1- When should you have your pre-wedding shoot?
There isn't a hard rule about it, pre-wedding shoots are a great way for couples to get to know their photographer, and it's easier for a photographer to know their client and their story, Most couples have their pre-wedding shoot as soon as they get engaged, others get their shoot done 4-6 weeks before their wedding. 
2- What are the things we should prepare for our pre-wedding shoot?
A checklist is a must for your pre-wedding shoot, get your outfits ready, select your location, and if you want to have a makeup artist, to do your makeup contact them beforehand. 
3- Are pre-wedding photos necessary?
A pre-wedding shoot allows you to get comfortable in front of a camera and lets you build a rapport with your wedding photographer, it also helps you to know your partner better and on top of that, it gives your more memories during this exciting period of your relationship. Pre-wedding photos aren't necessary but they are helpful both for the photographer and for the couple, thus they are highly recommended.
4-How long are pre-wedding shoots?
Pre-wedding shoots aren't usually very long, it depends on the location, the outfits you want to include, and the commute. Discuss the timings with your photographer beforehand to get a better idea.
5- What are the best pre-wedding locations in Indore?
So with these many inspirations for pre-wedding photoshoot poses, we hope you are left with many ideas for your photoshoot. If you have any questions or suggestions regarding the pre-wedding shoot or poses, leave them in the comments.