Photography is an Art. It is something that everyone has the potential to perform. Although, only some are the true artists of this art. Photography is a broad concept and there are many categories in photography. Here today, we have got you everything that you need to know about Product photography, we have got you the ultimate 'Guide for the Best Product photography Camera'! 
Everything around us can be captured into photographs. Everything is captured for different purposes. The art of clicking these photographs can be professionally done only with a professional camera. Although today, when you look around, you will find a lot of professional cameras from different companies. Every professional camera out there is made to click a different kind of photograph. 
Clicking all kinds of pictures with a single camera is not possible, as varieties of cameras are made with various purposes and objectives. You may click all kinds of pictures with a single camera, but your pictures won't come out best. 
There are many professional categories of photography like weddings, commercial and wildlife. However, when it comes to Product Photography, people usually get confused the most. With the right equipment, you also need the right camera for Product Photography, as not just any camera can do this work. When you do not use the right camera, you also don't understand the right settings that would give you the best pictures of your product. 
There are loads and loads of products that need to be captured into photographs for various purposes. All these products have their own sizes and shapes. So, many people get confused about the type of camera to prefer when it comes to product photography. Well, worry no more! We have got the answer to this question for you. 
The best Digital camera for product photography is the Canon 6D Mark II or Mark I. These cameras work best due to their amazing qualities that are going to be discussed further. So let's dig in!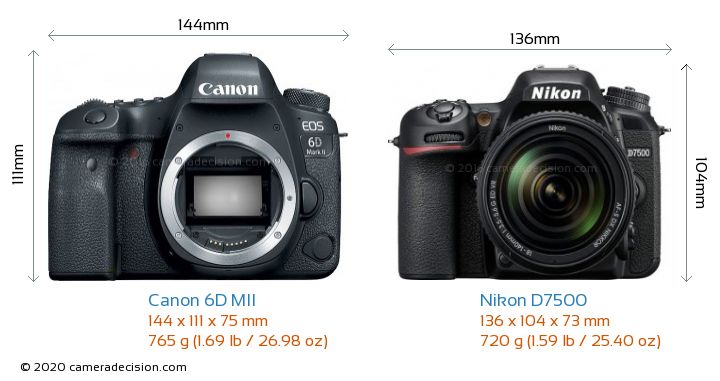 Source: Cameradecision.com
Both 6D Mark I and Mark II are legit the lightest ones from Canon's collection. While being light, they do not compromise with your needs and give the best benefits. The Mark II uses a full-frame sensor just like the higher-end Canon cameras but at a very low cost as compared. Both these Canon cameras, if compared, won't give you many differences. The main difference is about the model chip and file type. The 6D Mark I gives a resolution of 20 megapixels (5568px × 3708px), while the Mark II offers 26 megapixels (6384px × 4224px). As we know that most e-commerce products always come around in 2000px square or more. Both cameras have the sensors of the same technology (6D Mark II, DIGIC 7 processor), that means you can conserve the quality in your photograph even after doing intense editing. Also, both these cameras give you the advantage of interchangeable lenses that most of the Best DSLR cameras do. So, If you do not have the budget of buying a 6D Mark II, then 6D Mark I is definitely the next option for you. You are probably wondering about some more things but do not worry! Here are some more things that you should know before making a decision.  
Lenses are the most important part of a camera that defines the quality of a photograph. Even the simplest of lenses gather and focus light. So, a 50 mm lens and a 90 mm lens work best for Product Photography. And here's why – 
50mm lens is an ordinary lens that can be used for various purposes. This lens can get you the widest pictures without any distortion. A 50mm lens also works best for clicking pictures of grouped products, where you do not have the need to get closer shots. 
A 90mm lens is a Macro lens, meaning that you can get close up pictures with it easily. Most of the other lenses can't get closer than 1 foot, but 90mm lenses have the capability to go up to inches. Moreover, these long lenses with the combination of the sensor will remove all the distortion too. 
2. Why Canon '6D Mark II' over other brethren cameras?
Yes, the brand Canon offers many Professional Cameras that can be bought. You should prefer the 6D Mark II camera over any other of the Canons because it would perfectly fit in your budget. Since the 6D Mark II is the lowest-level full-frame camera available in the family of Canon, it is priced comparatively low. If you go for other Canon cameras, you won't be able to find as many qualities in any other camera. While one of them would go out of budget, the other won't be full-frame. There will be always something missing in every other camera. So, a 6D Mark II can be said to be the best for Product Photography. 
The Nikon-Canon debate is the most common and never-ending debate between photography lovers. No doubt, both companies make great cameras with great technologies. It is a matter of choice and comfort that should be kept in mind while buying a camera. There are numerous other brands too that make DSLR Cameras. Every brand has its best product which differs from the product of other brands. 
Many people even suggest Nikon D7200 or Nikon D850 for Product Photography. These Nikon Cameras can also be a great choice, only if you have the budget. Moreover, these cameras provide extra features that are great for a photographer, but not necessary for Product Photography. When we talk about the best camera for Product Photography, we also include the budget-friendly angle in it and do not see other additional features that are nonessential for product photography. 
So, it totally depends on the buyer. The camera that fulfils your requirements, comes under your budget, the one which makes it easy for you to handle its technicalities; would obviously be the one that you will buy. Be it a Nikon Camera or a Canon, It is all just about what you prefer to use. 
Now, you probably know the Best Camera for Product Photography and the reason behind. You can buy any other Cheap DSLR Cameras if you have your reasons, but here we are talking about the best camera for product photography and we have surely mentioned it. 
Moreover, now that you have got all your answers from our 'Guide for the best Product photography camera', you also need to know some more things. Remember that it is the photographer who makes the best possible pictures and not the camera. 
You may have the best Digital camera and still, come up with average photos. Solely the best camera can not give you the best picture. You also need the perfect lighting around your product, the best angle to click the picture and many more things to get a perfect photograph. Although, everything is just an arrangement of equipment that can help you in bringing out a photograph. However, you still need the best of these pieces of equipment to get the best possible photograph! 
Also we, at Akshit Photography offer professional photography with the use of best photography and videography equipment. We use the latest versions of equipment to provide you with the best photography and videography that you are looking for. Why wait then? Contact us to get our professional assistance in your pocket-friendly budget!
DOES AKSHIT PHOTOGRAPHY USE DIFFERENT PROFESSIONAL EQUIPMENT FOR VARIOUS KINDS OF PHOTOGRAPHY?
At Akshit photography, the team has professional experience of years in the field of photography. Hence, they have knowledge of various equipment required in this field. They use the best of digital cameras for every photography, paired with the best equipment of lighting and other factors.
WHAT KINDS OF PHOTOGRAPHY DOES AKSHIT PHOTOGRAPHY SPECIALISE IN?
You will find a vast range of photography which Akshit Photography specialises in. They have a professional experienced team for photography. From weddings and pre-weddings to product photography, they specialise in all of it. Along with photography, they also offer great videography services.
HOW MUCH DO THEY CHARGE FOR A PROFESSIONAL COMMERCIAL PHOTO SHOOT?
At Akshit Photography, clients' needs are always their priority. They offer a vast range of work in commercial photography. Moreover, They offer these great professional services at reasonable rates so that their clients don't have to dig a hole in their pocket. You can contact them through their website or their social media pages and book them with the best rates.
HOW CAN I CONTACT AND BOOK AKSHIT PHOTOGRAPHY?
You can go straight to their website and contact them via WhatsApp. They are also present on various social media platforms including Instagram and Facebook, so you can also message them on their social media pages and get required details.