The wedding season 2020 is about to come and every Bride-to-be out there has started planning her day. From wearing that million-dollar outfit to nailing that diva look, you must have planned all of it. Every girl wishes her auspicious day to be perfect, as it's only once in a lifetime opportunity (at least in India), and we know that you don't want to miss out on anything.
However, amidst all these plannings and preps, have you thought of your Wedding photoshoot yet? You sure will always remember the sweet memories of your wedding, but photographs will remind you of the details. Only through pictures, can you re-live and cherish your special day. You may have booked the Best Wedding Photographers, but what's the use if you have not planned it all out.
People keep experimenting in everything that they do. The era of getting simple wedding pictures clicked has gone. People look for new, creative and innovative ideas of getting their wedding captured into the camera. The trends are changing, but how to keep up with the latest trends? So here we go with some ideas on how to get those perfect WOW pictures.
1. Plan a Pre-Wedding Photoshoot with your Hubby-to-be
Who said clicking pictures is just limited to your special day? You can create memories with your hubby even before your wedding, in the form of Pre-wedding photographs. You can book a Pre-wedding photographer, as he will be able to give you the best, unique ideas for your shoot. Even if you do not want a proper pre-wedding shoot, you can then go for a simple shoot which will be done in a day.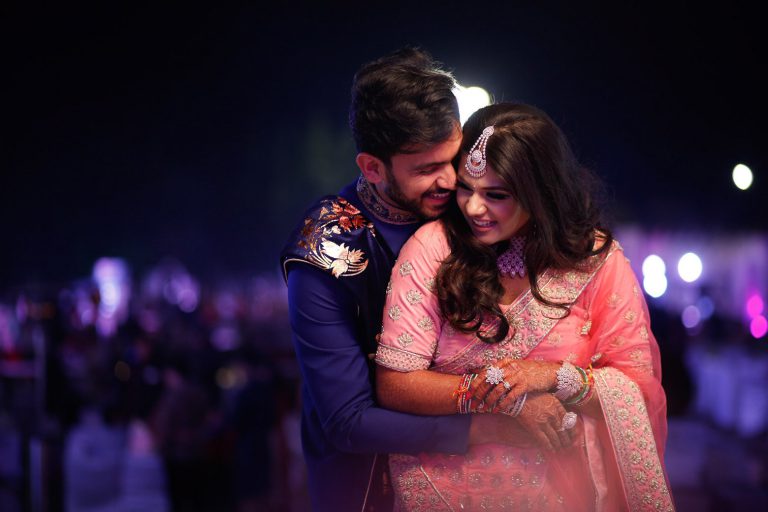 2. Focus On that Beautiful Mehendi
When your henna hands are looking so alluring, why not capture them too? Your hands look the most beautiful with all those bangles, choodas and your engagement ring; but the Mehendi on it still gets the most highlighted. That beautiful henna is too beautiful to not show off. So, Have some pictures clicked with those pretty hands and feet in focus, You won't regret. Promise!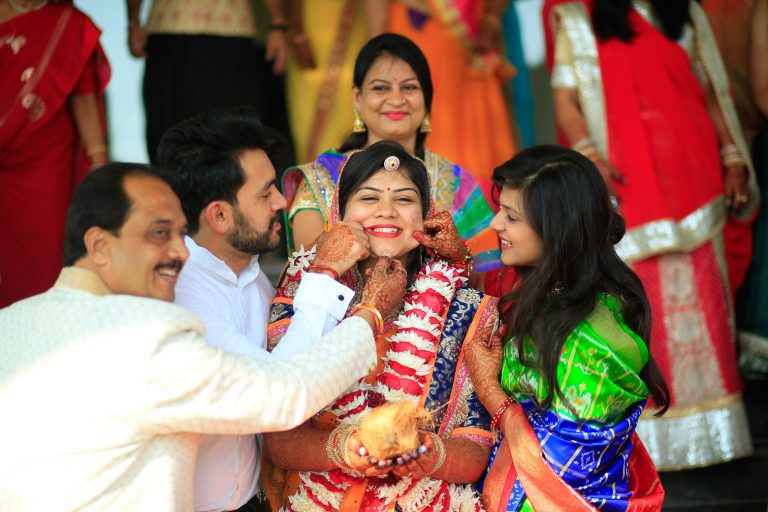 3. Some Candids on your 'Haldi'
The Haldi ceremony is surely the most fun part of every Indian Wedding, then how can we miss out on it? You really need to have some cute candid pictures with your gang in your Haldi. You can also go a little creative at your Haldi. These candid pictures will always remind you of the best moments that you have created with your family and friends.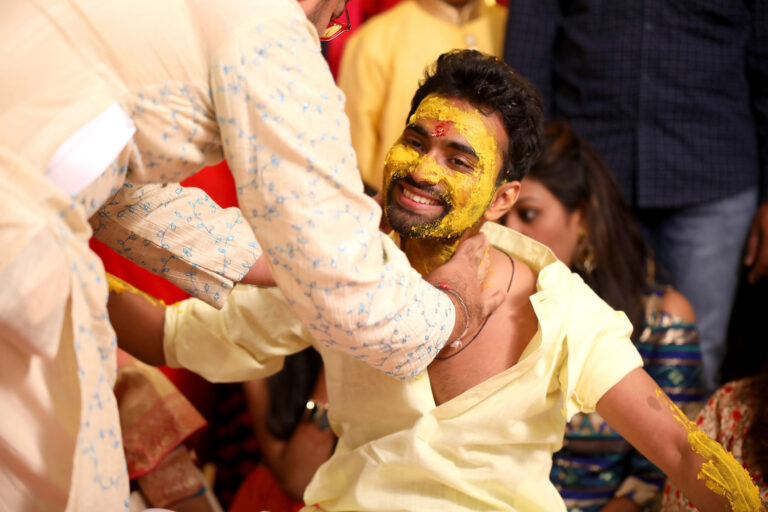 4. The Awaited Arrival Moment
The moment when the Bride enters the room, mixed emotions flow in the hearts of her nearest and dearest ones. It is important to capture that moment full of emotions. That entry picture of yours will always make you feel those mixed emotions again. Also, the Grand Entry of your Groom has to be captured; So that you always remember how your King walked Into your life to start a new chapter.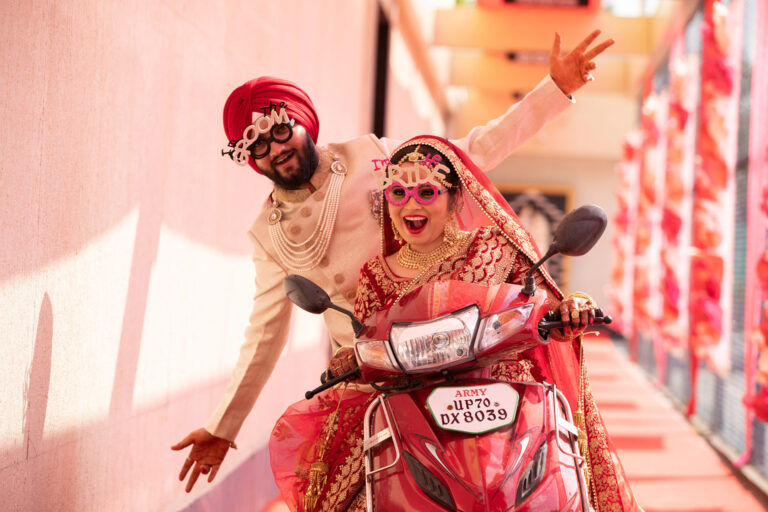 5. That Elegant Lehenga and Shringaar of yours
We know that you have worked so hard to find and fit that perfect Lehenga, so obviously it deserves a little attention too, right? Some kickass pictures of your transition into a bride with that Lehenga is definitely going to look so cool in your wedding album. So don't forget to get some Lehenga shots in your Wedding Photoshoot. Also, your elegant hand-picked bridal jewellery is something that you will miss to wear later. So why not capture it in the camera to cherish its memories later.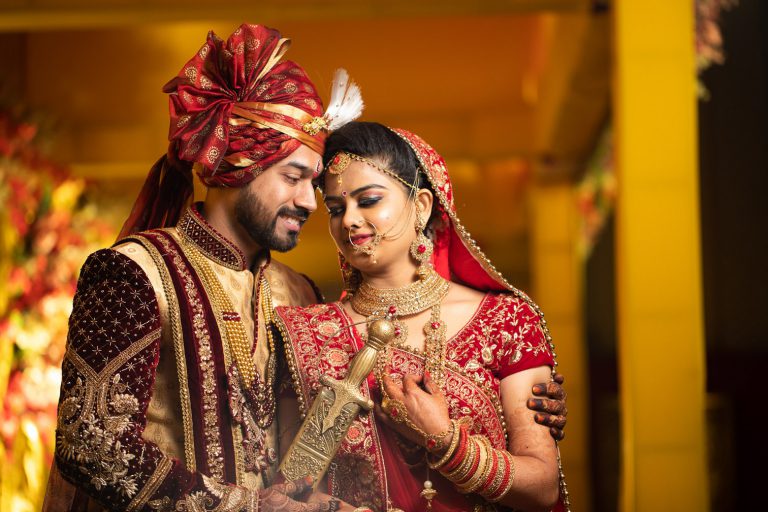 6. Get those Couple-Goal Pictures clicked
You are the only Queen on your special day. So apart from those pretty candids and beautiful photographs, You deserve some really good pictures with your King too. So, do not forget to get some beautiful couple pictures clicked. You can try to have some pictures with a royal touch. Ask your photographer to do some Creative Wedding Photography at your reception. These pictures are going to give you some of the best memories with your hubby.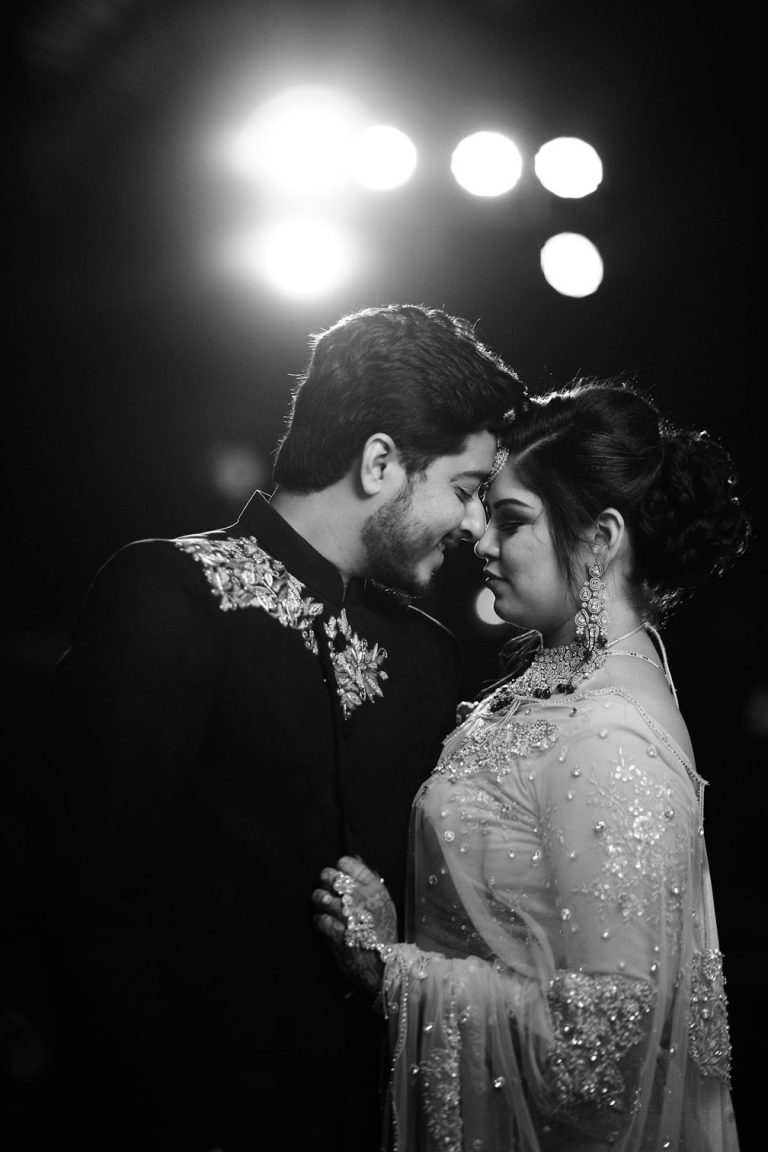 Searching for the best wedding photographer for your special days? Well, that is not a problem. We are here, at your service, to capture your happiest moments and save them for you with all our heart.
Book your wedding with us to get the best shots and a fascinating wedding album altogether. From your Pre-wedding shoot to your Royal couple pictures, we got you covered on everything!
HOW CAN I CONTACT AKSHIT PHOTOGRAPHY?
You can go to their website and raise a query using contact us form or you can directly connect with them on +91-8269699799. They are also available on various social media sites like Instagram, Facebook and Pinterest. You can also contact them on any of these social platforms.
CAN I GET MY PRE-WEDDING SHOOT DONE WITH AKSHIT PHOTOGRAPHY?
Yes! Akshit Photography specializes in all kinds of photography. From creative Pre-wedding shoots to royal wedding portraits, they offer a wide range of packages for all the photo shoots.
WHAT ARE THEIR PHOTO SHOOT PACKAGES?
Here at Akshit Photography, they offer a wide range of photo shoot packages with complete professionalism. You can contact them through their website to get the best offers.
DOES AKSHIT PHOTOGRAPHY SPECIALIZE IN BRIDAL SHOOTS?
Yes, they have expertise in a wide range of photography. From unique pre-wedding shoot ideas to the best of Bridal photo shoots, you can reach them and know about everything.