Do we think the Pre-Wedding Shoot is really going to make any difference? Is Pre-Wedding Shoot necessary? Well, to face off with the reality of today, yes it does make a huge difference in making your big day special. So what is the meaning of Pre-Wedding Shoot? The best answer to give is it is as a trial run for you to choose your best pose, angles and position and gel with the photographer. Alike the policy of 'try before you buy' they way you check all other buys for instance your hair, makeup, dress, cake etc. You always look for a trail before you invest on something. Wedding photography is no different at all and hands down! Akshit Garg is the Best Pre-Wedding photographer in Indore, India. This aspect of weddings should be very keenly and carefully thought about. Since it is first and the last time you are going to try such a thing. Make sure you choose the best Pre-Wedding Photographer in Indore, India to capture your big day and set it right for you. Choosing the best Pre-Wedding Photographer from Indore India can give you a better idea and an assurance of the right photographer you have selected for your special day. After finalizing your choice, for the best Pre-Wedding photographer from Indore, India make sure, you get along with them and they get along with you. Some wedding photographers will have Pre-Wedding Shoots included in their Wedding Photography Packages but some may offer Pre-Wedding Shoot as an add on for the package you have chosen.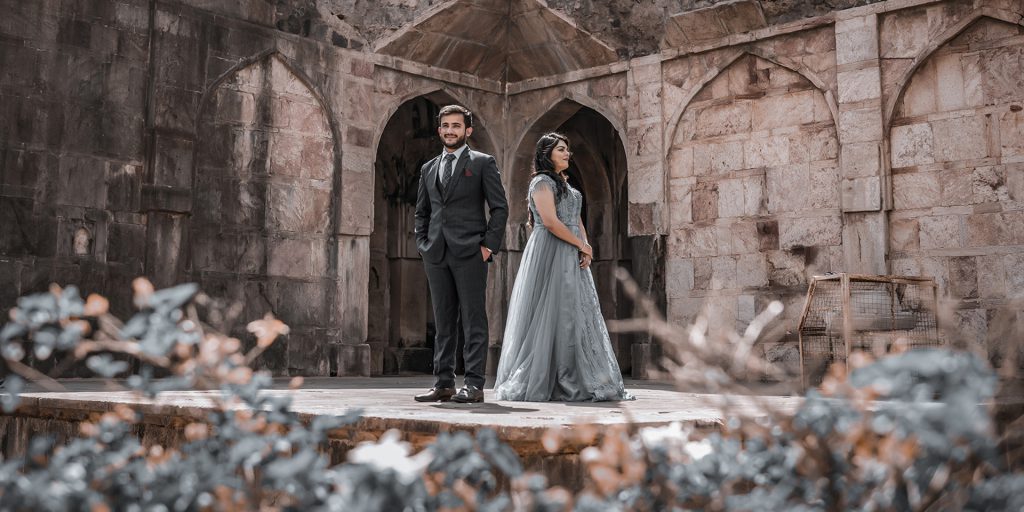 Irrespective of whether it is included or an additional option, Pre-Wedding Shoot is an option that is well worth having. Having a Pre-Wedding Shoot can profusely affect the smooth functioning of your wedding day. 
Here are few reasons to consider Pre-Wedding Shoot important.
1. IT IS AN ICEBREAKER SESSION WITH YOUR PHOTOGRAPHER.
Gone are those days when wedding photography was just about posing and smiling. The modern times has made things much innovative and opened a lot more dimensions to make your wedding album perfect. Plan your Pre-Wedding Shoot couple of months prior your wedding with the Best Pre-Wedding photographer from Indore, India. This will help you to know your photographer well in advance. Hence, on the main day, things will be pretty cool and chill at your end and you can give your best look in front of the camera. From the photographer's end, it may help him to discover your best angles and positions to make your wedding day photos outstanding. Furthermore, we can also consider Pre-Wedding Shoots as a trial photography session to make you look prepared for your big day. Having a Pre-Wedding Shoot will also let you know the photography styles of your photographer hence making it easier for you to adjust according to your comfort.
2. YOU CAN ANTICIPATE THE BEST SHOTS & ANGLES FOR YOU.
You can have an idea of poses, positions and angles which suits you best after you see the photos from your Pre-Wedding Shoots. You can finalize the type of photography and theme you want to have for your wedding day. Be it candid, portrait, magazine or some any other type of photography. The Best Pre-Wedding Photographer from Indore, India will focus more on capturing the intricate details of your wedding. Hence, a Pre-Wedding Shoot will make you understand & assure you how good your photographer is going to be at capturing you and your better half.
3. MORE PHOTOS TO ADD TO YOUR WEDDING MEMORIES
Without the struggles of the heavy wedding attires, makeup, ornaments, umpteen numbers of people around, and the annoying selfies, you can simply have some couple of amazing photos of just you and your partner. This is one of the major reasons why Pre-Wedding photo shoot is important. Pre-Wedding Shoots are for those who want good pictures of togetherness, just bride and groom in their solace. Pre-Wedding photography session can also allow both partners to get to know each other in a better way. The couple can feel free to give some traditional shots or some candid expression shots. The best Pre-Wedding photographer from Indore will always focus on capturing natural moments, expressions, and real emotions shared by the couple. The comfort shown on the faces of the couples from Pre-Wedding Shoot pictures make your album more vibrant.
4. PRESENT YOUR PRE-WEDDING SHOOT'S PICTURES AS SLIDESHOW ON YOUR WEDDING DAY.
Allow your guest to have a glace of your pictures from your Pre-Wedding Shoot. You can put your Pre-Wedding photos on your wedding invitation card. A number of couples choose to display these photos on their wedding day for the people present around. Choose the Best Pre-Wedding Photographer from Indore, India and ask him for ideas to make your photos look more presentable. Your pictures from Pre-Wedding Shoot can be the best storyteller, let the every picture speak and narrate your love story in a splendid manner.
5. DECORATE YOUR WALLS WITH ROMANTIC IMAGES OF YOU BOTH
You will have numerous stunning digitally documented stills as a by-product of your Pre-Wedding Shoot provides a number of stunning images. Use them as wall decors at your home and preserve the memories of the special day in your heart and straight in front of your eyes as well. The Best Wedding Photographer In Indore, India will capture your Pre-Wedding pictures and make them stand out among rest of your usual wedding pictures. Go for research on ideas like choosing a location, a specific theme, classy props, etc before you plan your Pre-Wedding session. The more you do research, the better your pictures will be.
Akshit Garg is the best Pre-Wedding photographer in Indore, India. His team of experienced Photographers offers you professional quality services with the use of latest technology photography and videography equipment. We provide pocket friendly and the best packages for wedding photography in Indore, India. Be it best Pre-Wedding photography or best candid photography in Indore, we create the best digital documentation of the most memorable moments of your life. Akshit photography serves you with the bunch of amazing and best photographers from Indore. They make every possible effort to capture the best of your happy moments. Contact us to get our professional assistance with your wedding & pre-wedding shoots in a pocket-friendly budget!   
HOW MUCH DOES A PRE-WEDDING SHOOT COST?
The cost of Pre-Wedding Shoot is decided according to the need of customer. There is no fixed cost decided for Pre-Wedding Shoot. Since there are a lot of choices like location and props, it makes the cost variable.
WHICH IS THE BEST PLACE FOR PRE-WEDDING SHOOT IN INDORE?
Indore is surrounded by many historical places which has ancient importance. You need to first choose the theme on which you want to arrange your Pre-Wedding Shoot. The best photographer in Indore, India will be well known of some good locations and provide best wedding photography packages in Indore